Osaka also referred to as the "Kitchen of Japan", is a lively city with a wide variety of attractions. The city offers something for every taste and every budget, from world-class museums to historical sites and lively entertainment districts.
Here are the top 10 must-see spots in Osaka:
(*Business hours, opening day, and fees are subject to change, please check the homepage before you visit.)
1- Osaka Castle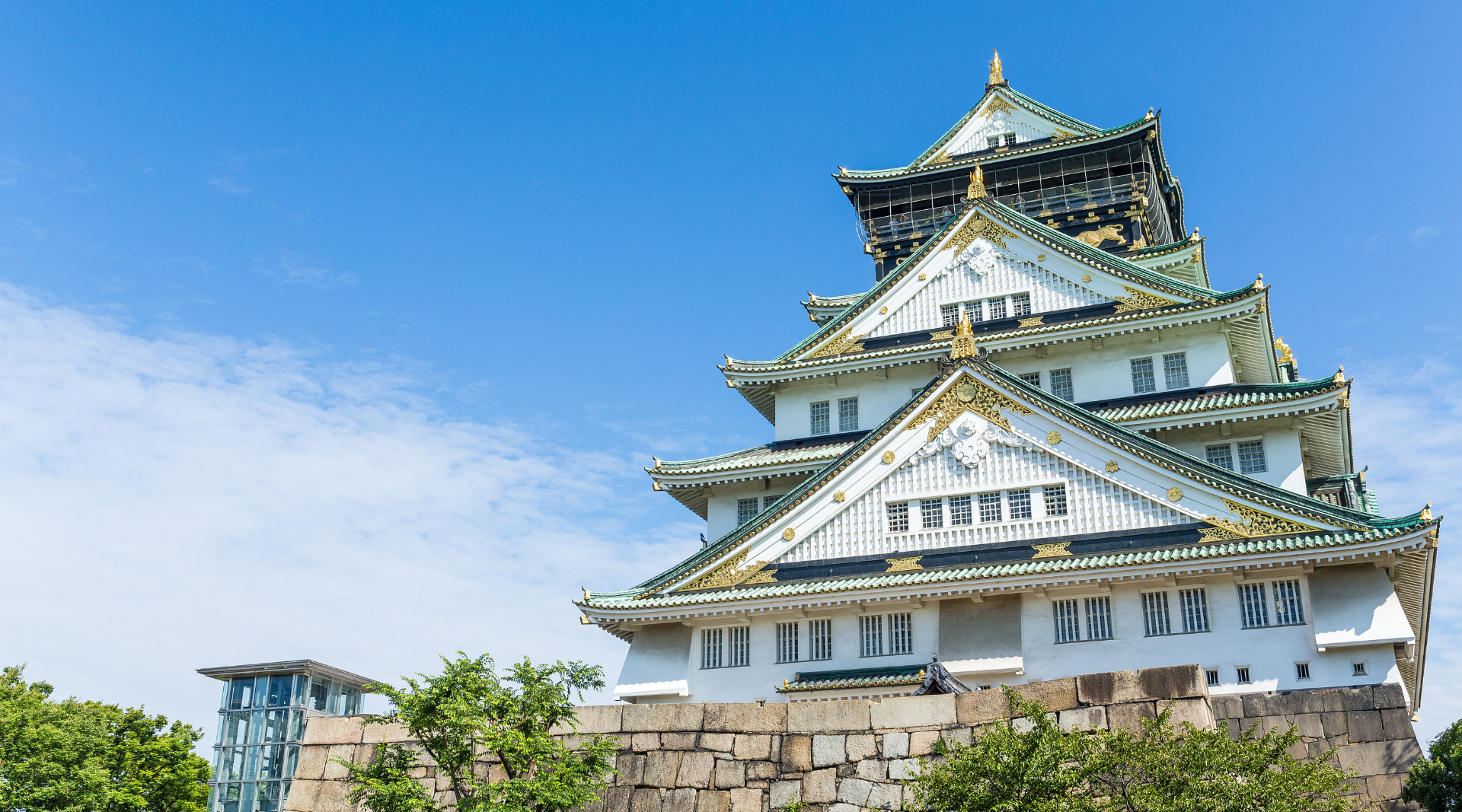 As one of the most iconic landmarks in Japan, Osaka's Castle (大阪城天守閣)is a must-see for anyone visiting the city.
Built in the 16th century at the initiative of Toyotomi Hideyoshi, the castle played an important role in the unification of Japan. Today, it has been restored and is open to the public as a museum. The 8th-floor observatory offers a panoramic view of the city.
Opening hours: 9:00 to 17:00 (entry until 16:30); extended hours on selected days.
Closed from December 28 to January 1
Admission: 600 yen
2 – Osaka Museum of History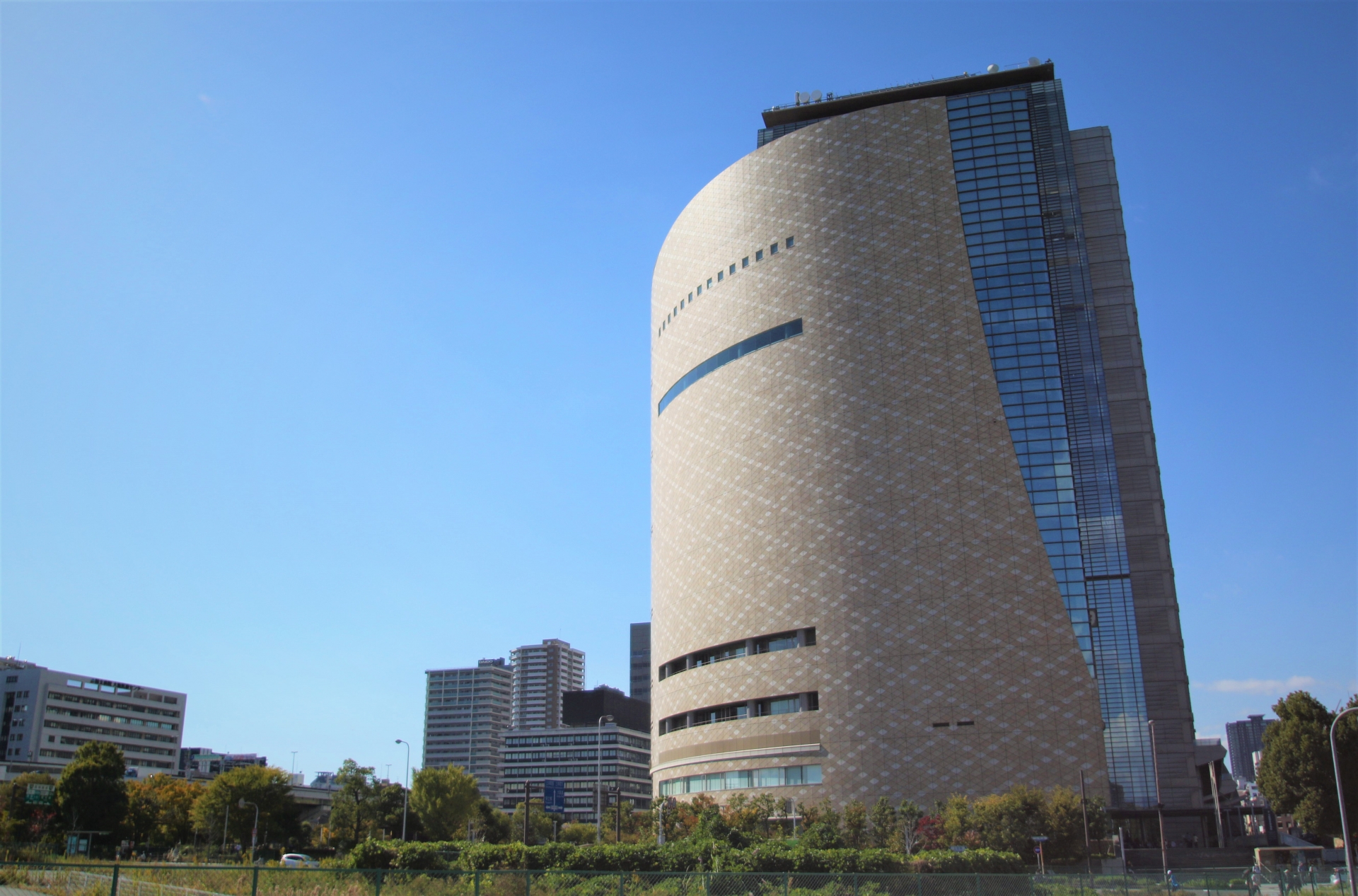 The Osaka Museum of History (大阪歴史博物館)opened in 2003. It situates across the street from Osaka Castle. The exhibits, including scale models, photographs, and life-size reconstructions, show how the city evolved over 1350 years. Each floor shows a different period in Osaka's history.
Opening hours: 9:30 to 17:00 (until 20:00 on some Fridays.) Admission ends 30 minutes before closing.
Closed on Tuesday (or the following day if Tuesday is a national holiday) and December 28 to January 4.
Admission: 600 yen
3 – Sumiyoshi Taisha Shrine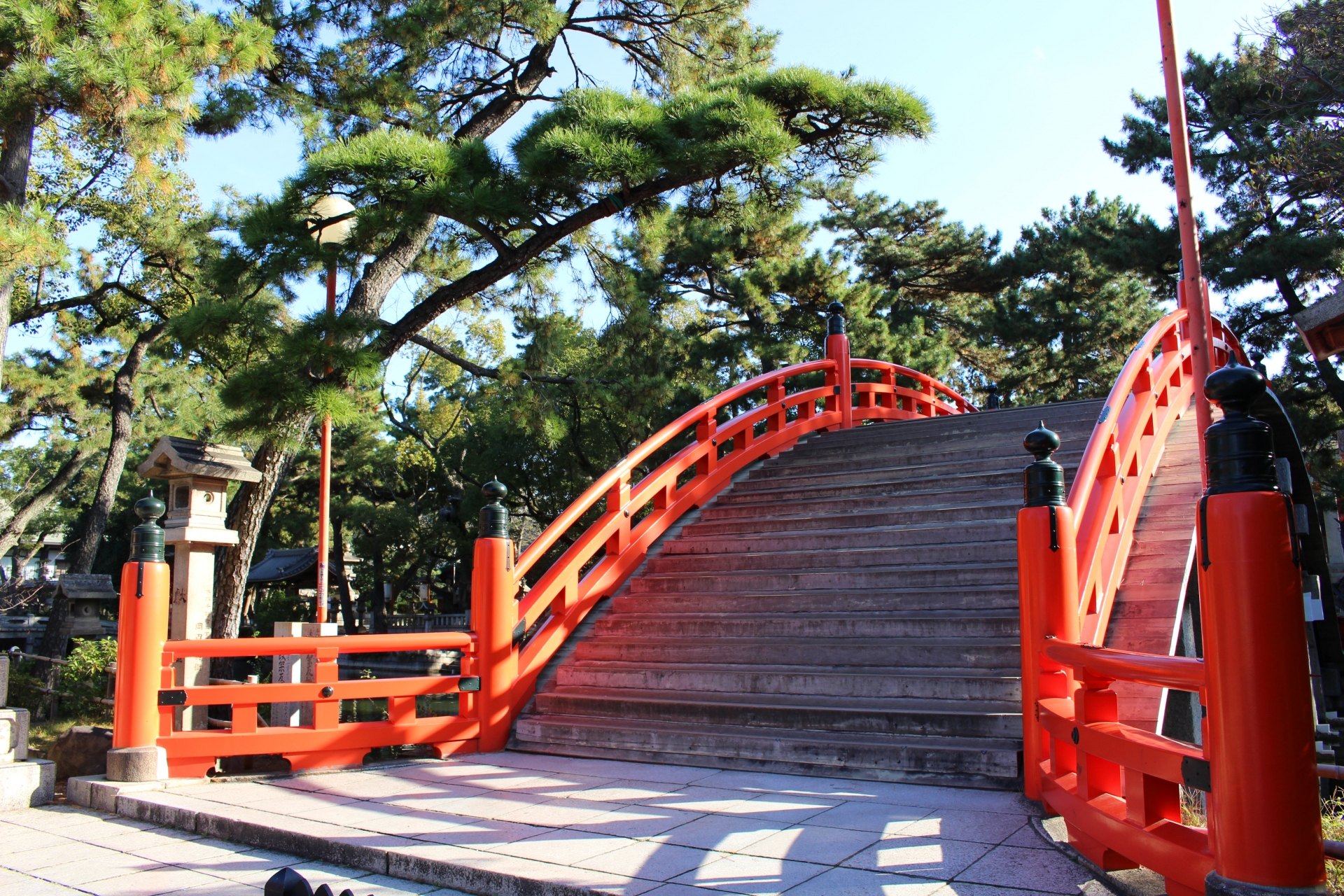 Sumiyoshi Taisha Shrine (住吉大社)was founded in the 3rd century, preceding the introduction of Buddhism, making it one of the oldest shrines in Japan.
The site is dedicated to the three gods of the sea and allows us to discover an ancient Japanese architectural style called Sumiyoshi-zukuri. Be sure to visit the four main halls and the beautiful Sorihashi Bridge. 
Opening hours: 6:00 to 17:00 (from 6:30 from October through March)
Admission: Free
4 – Shinsekai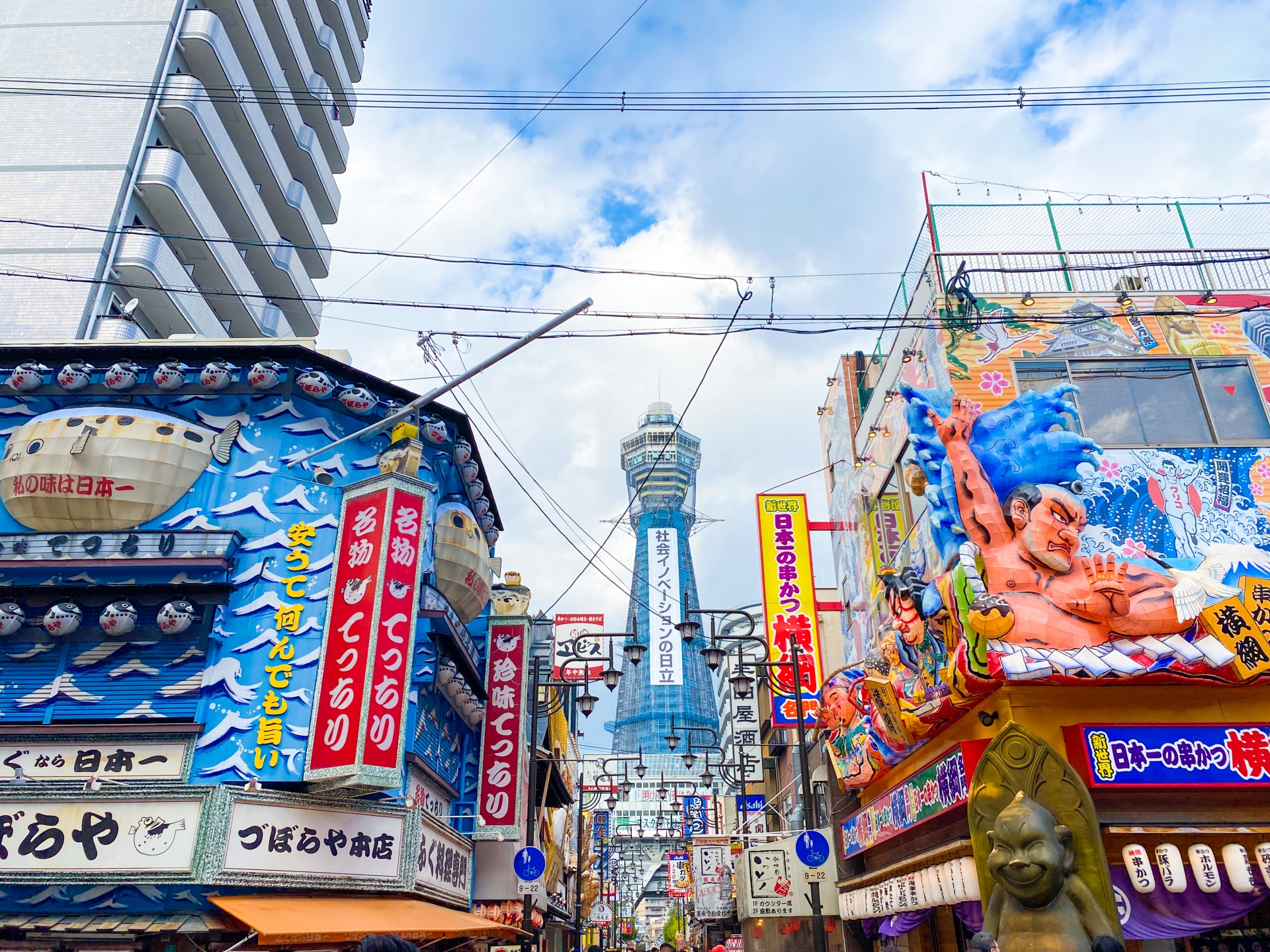 Shinsekai district (新世界)was built in 1912. It situates west of Tennoji Park.
Although Shinsekai means "new world", the district has more of a nostalgic and retro vibe. It is a great spot to have a nice walk while tasting some kushikatsu (deep-fried skewers.)
You can also visit the Tsutenkaku Tower, also known as the "Eiffel Tower of Osaka", with its observation deck at 103 meters high, offering a splendid view of the city.
5 – Dotonbori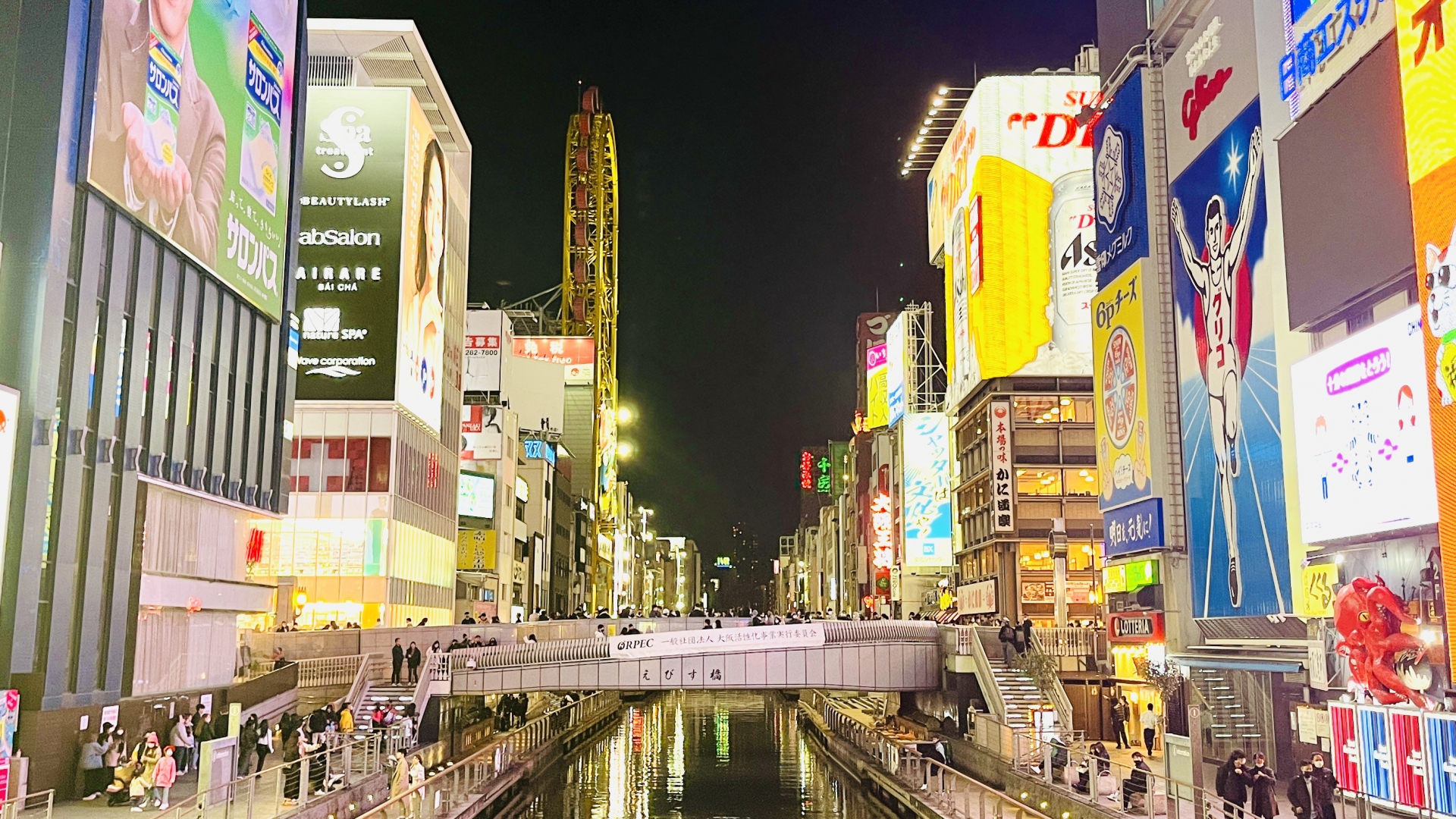 Dotonbori (道頓堀)is a busy street renowned for its giant billboards, neon signs, and mouth-watering street food. Be sure to try some local dishes such as okonomiyaki, takoyaki, and kushikatsu.
6 – Abeno Harukas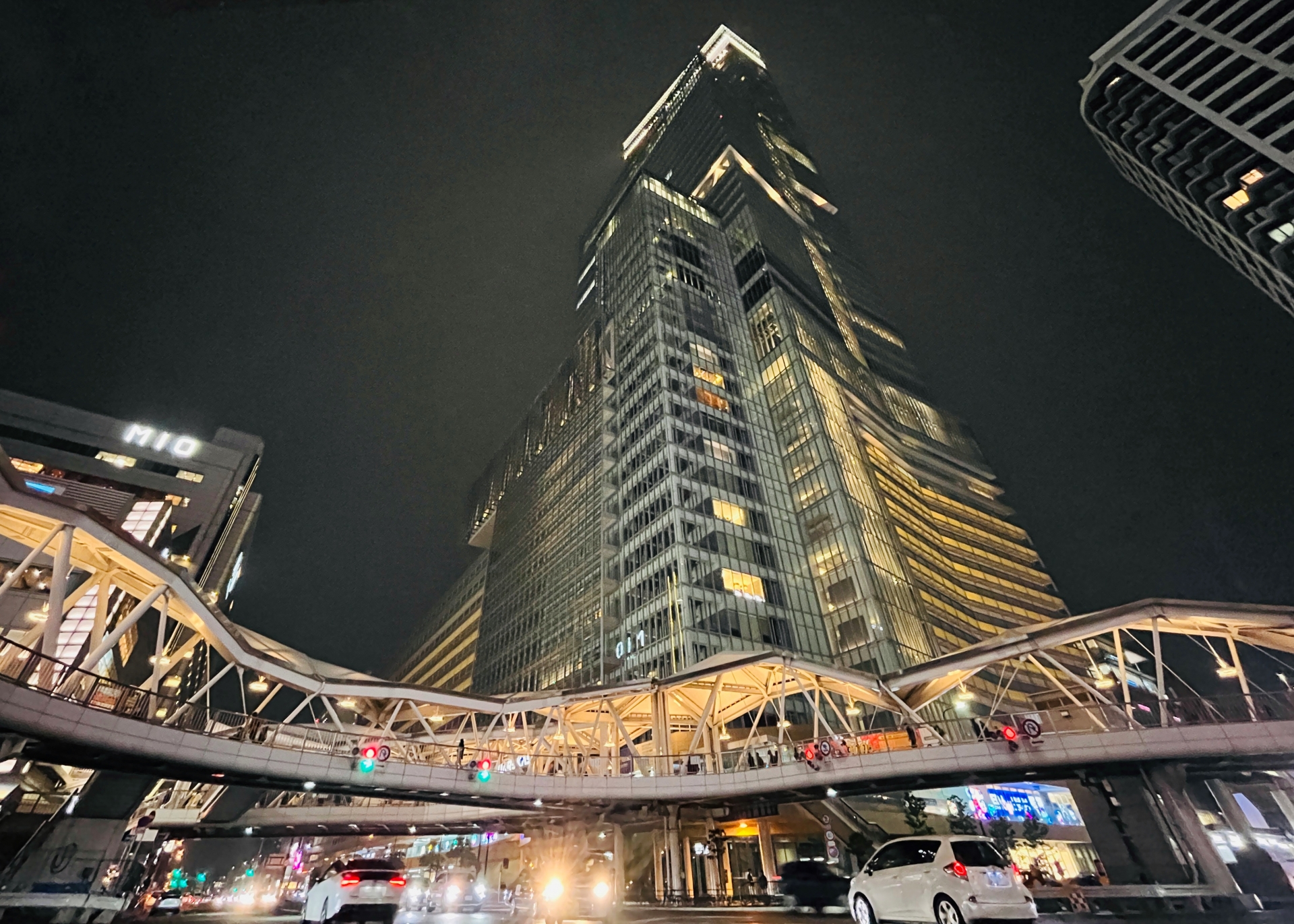 Standing 300 meters high, Abeno Harukas(あべのハルカス) was completed in 2014 and is to this day the tallest skyscraper in Japan. The observation deck, called "Harukas 300", is located on the top three floors of the building (58th to 60th) and offers a breathtaking 360-degree panoramic view of Osaka.
Observation deck opening hours: 9:00 to 22:00
Admission: 1500 yen.
7 – Shitennoji Temple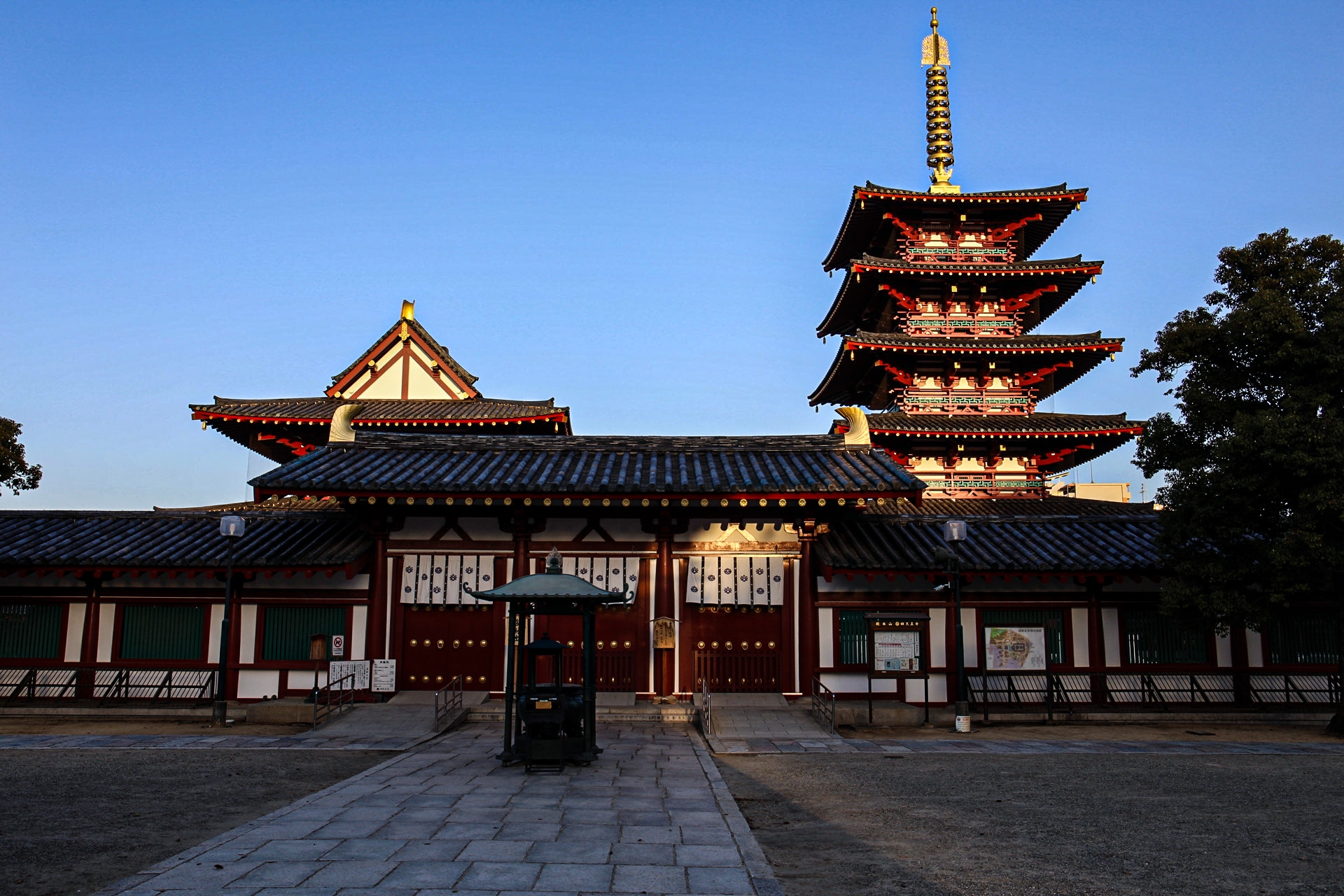 Shitennoji Temple (四天王寺)is one of the oldest temples in Japan. It was founded in 593 by Prince Shotoku, a famous figure in Japanese history, mainly for his contribution to the introduction of Buddhism in Japan.
It is a great spot for those interested in Japanese history and culture. Visitors can wander around the buildings and gardens, including the very famous five-story pagoda.
Opening hours: 8:30 to 16:30 (16:00 from October through March) 
Admission: inner precinct: 300 yen; garden: 300 yen; treasure house: 500 yen.
8 – Kuromon Market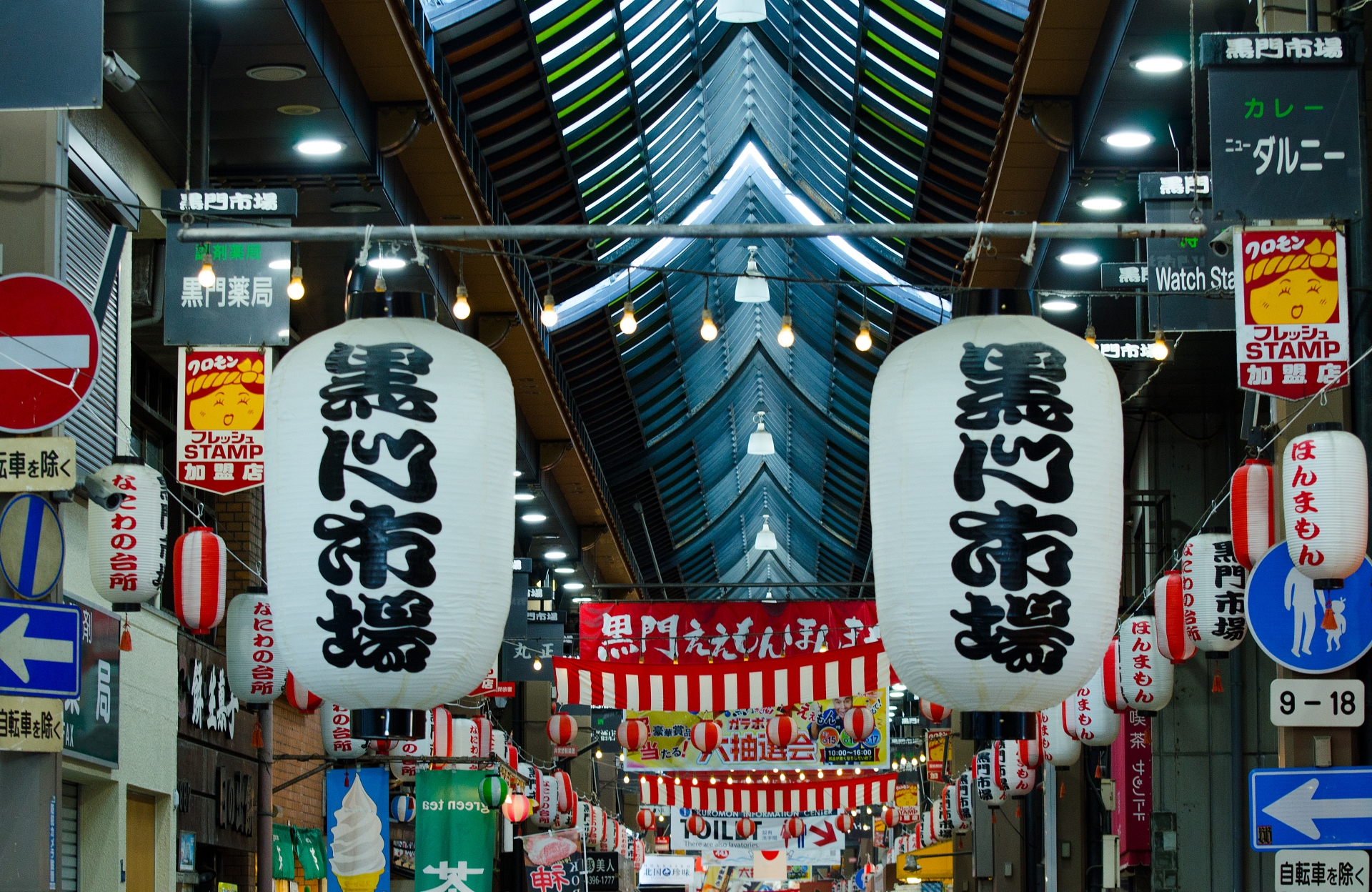 Based in the Minami area of Osaka, Kuromon Market(黒門市場) is a covered food market that extends over 580 meters.
With about 170 shops mainly specializing in seafood, meat, vegetables, and other food products from all over Japan, Kuromon Market is the place to enjoy some tasty Japanese specialties. For more than 170 years, the market has supplied chefs as well as individuals.
9 – Osaka Aquarium Kaiyukan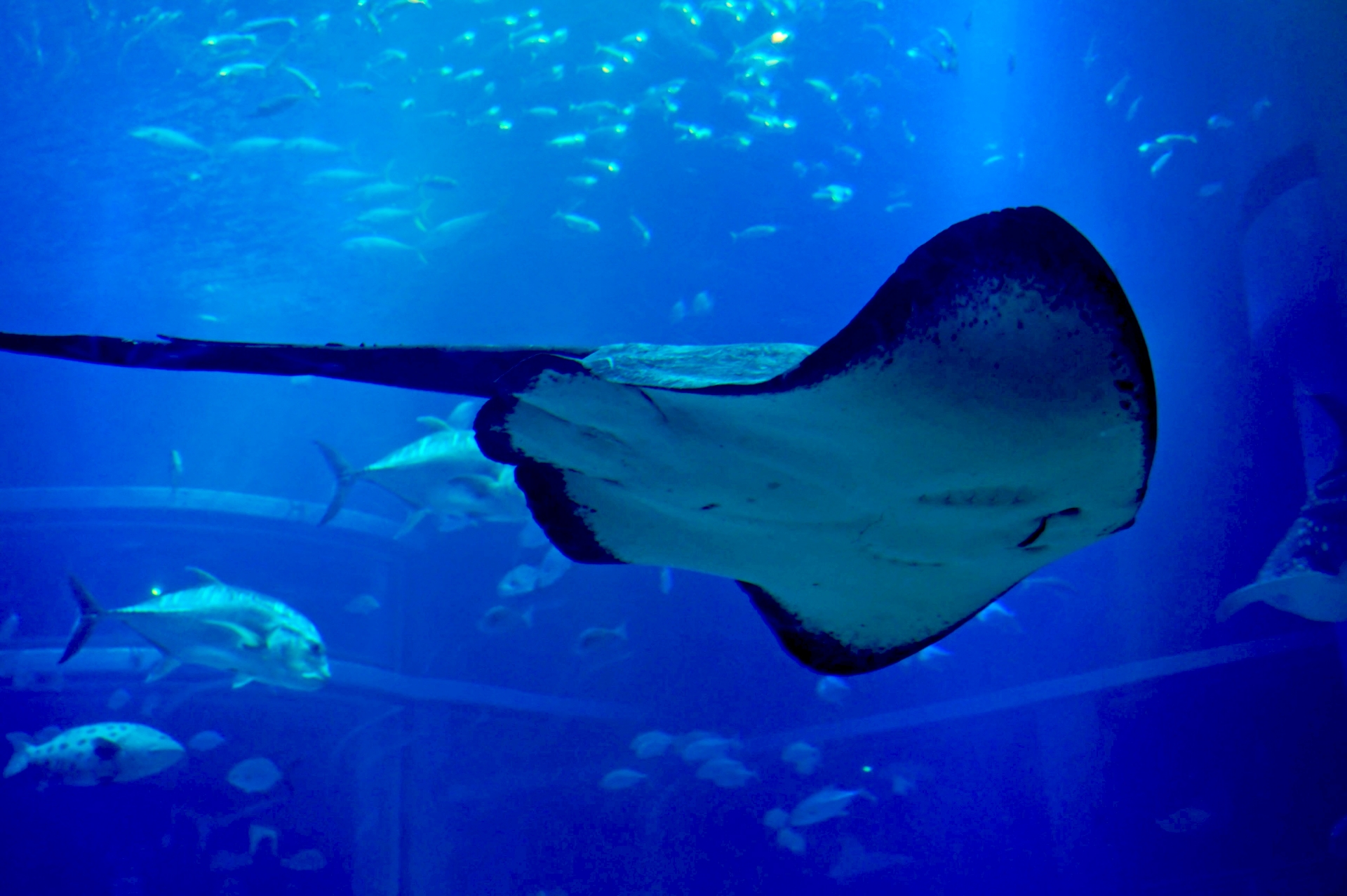 Osaka Aquarium Kaiyukan (海遊館)is located in Tempozan Harbor Village, close to the Osaka Bay area.
The aquarium features over 30,000 animals across 620 species, with 15 different tanks showing various environments of marine life. The central tank is the most impressive, as it is nine meters deep and is home to whale sharks, the largest fish species in the world.
Opening hours: 10:00 to 19:00 (entry until 18:00) Longer hours during holidays.
Admission: 2400 yen.
10 – Universal Studios Japan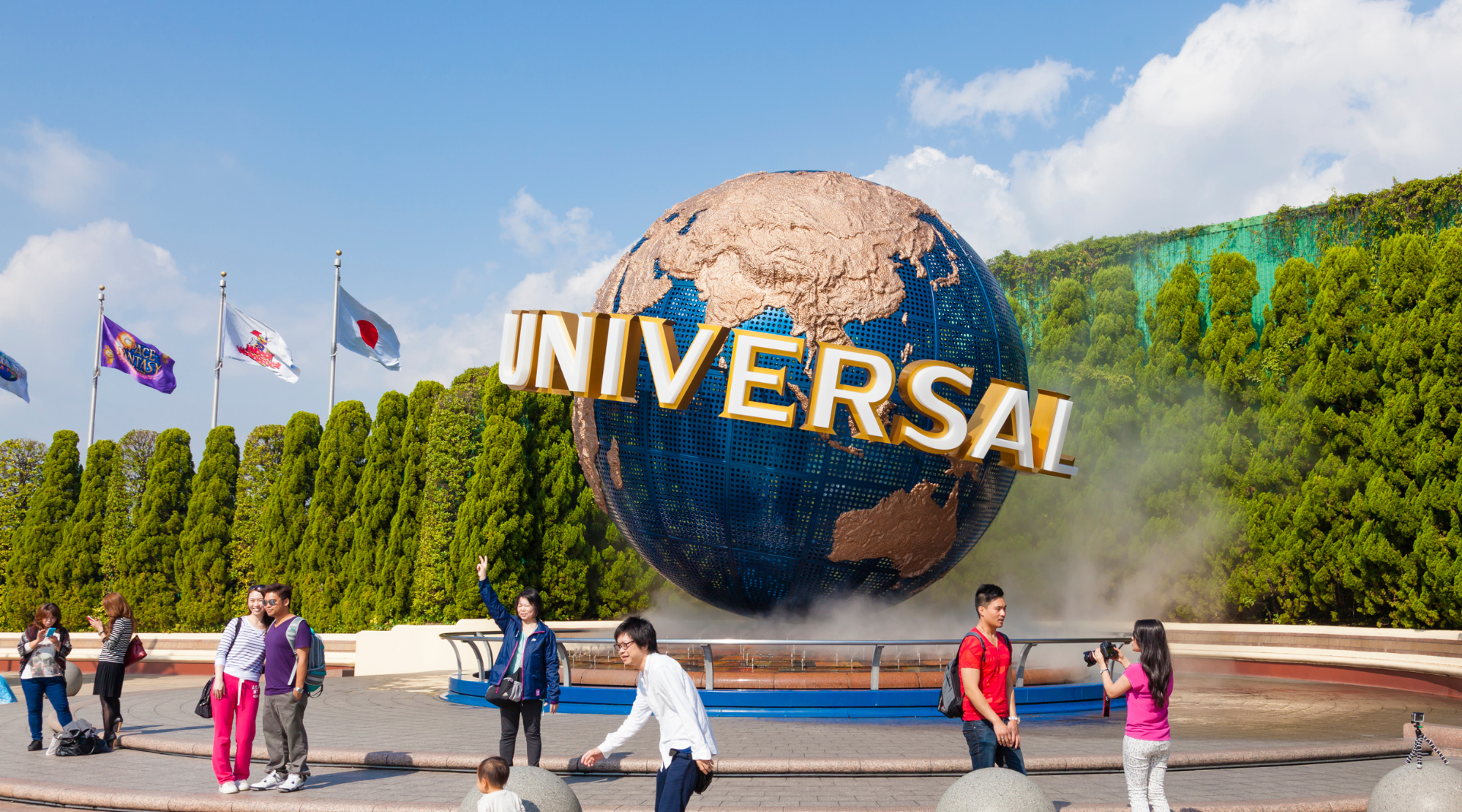 Universal Studios Japan is a theme park that opened in 2001 in the Osaka Bay area. It has now become one of the most popular theme parks in Japan after Tokyo Disney Resort. From Harry Potter to Super Nintendo World, Universal Studios Japan offers rides and activities for everyone to enjoy.
Information on opening hours and admission fee: Universal Studios Japan
Other recommendations
Tempozan Ferris Wheel(天保山大観覧車)
Tennoji ward(天王寺)