We'd like to introduce to you 5 fast-food restaurants present in all of Japan. 
They are relatively cheap but also you will not wait long.  
(*Prices are subject to change. Please check the shop's homepage before you visit.)
MOS BURGER (Japanese-flavored burgers)

The first one is MOS BURGER. 
MOS BURGER opened in 1972 and has been serving Japanese burgers nationwide ever since. This chain is from Japan. They have a lot of Japanese-flavored burgers on their menu like teriyaki, shrimp, fish burgers, and pork cutlet, but they also have rice burgers! A round rice bun replaces the buns and is filled with Japanese products like shrimp Tempura, and Yakiniku.  
It is one of the most famous Japanese franchises and is the second largest franchise in the country after McDonald's.  
You will find them everywhere in Japan at very affordable prices. 
(https://www.mos.jp/menu/global/english/)
NAKAU (Rice bowls and noodles)
\今月もやってきた❗️/ 28日の #ニワトリの日 🐔 そんな今日はやっぱり #親子丼 😋💕 皆さんも ランチやディナーにいかがですか❓ #なか卯 #炭火焼き親子丼 pic.twitter.com/ggUN4WyM7A

— なか卯【公式】 (@nakau_info) February 28, 2023

The second fast food well-known is Nakau. 
Nakau is a popular Japanese fast-food restaurant chain across Japan, located mainly in Tokyo and Osaka. Nakau opened in 1966.
You can choose from a wide selection of donburi, such as Oyakodon (chicken and egg rice bowl), Katsudon (pork cutlet on scrambled egg and rice), Gyutojidon (beef and egg rice bowl), and, of course, Gyudon. You can even get an "Italian style" Oyakodon which is cooked with basil sauce, cheese, and tomatoes. Eel and chicken meatballs are also available.
There are also noodles (udon, soba). 
GINDACO (Takoyaki)

The third one is Gindaco, a famous chain in Japan from Osaka. 
Gindaco wind of Takoyaki is one of the famous local specialties of Osaka. It is small balls of dough with pieces of octopus inside which are then sprinkled with sauce, bonito flakes, and seaweed powder. Gindaco is the biggest Takoyaki chain and you are likely to see it on the streets as it is very popular. 
The standard Takoyaki (with 8 balls) costs only 780 yen (approx.5,70$), which makes it a very affordable Japanese treat to snack on!
You can change the flavors by adding various toppings such as sliced green onions, egg salad, mayonnaise, and mentaiko cheese (mackerel roe). After you place your order, you can also watch them make it in the special Takoyaki grids!
Hamasushi (Sushi restaurant)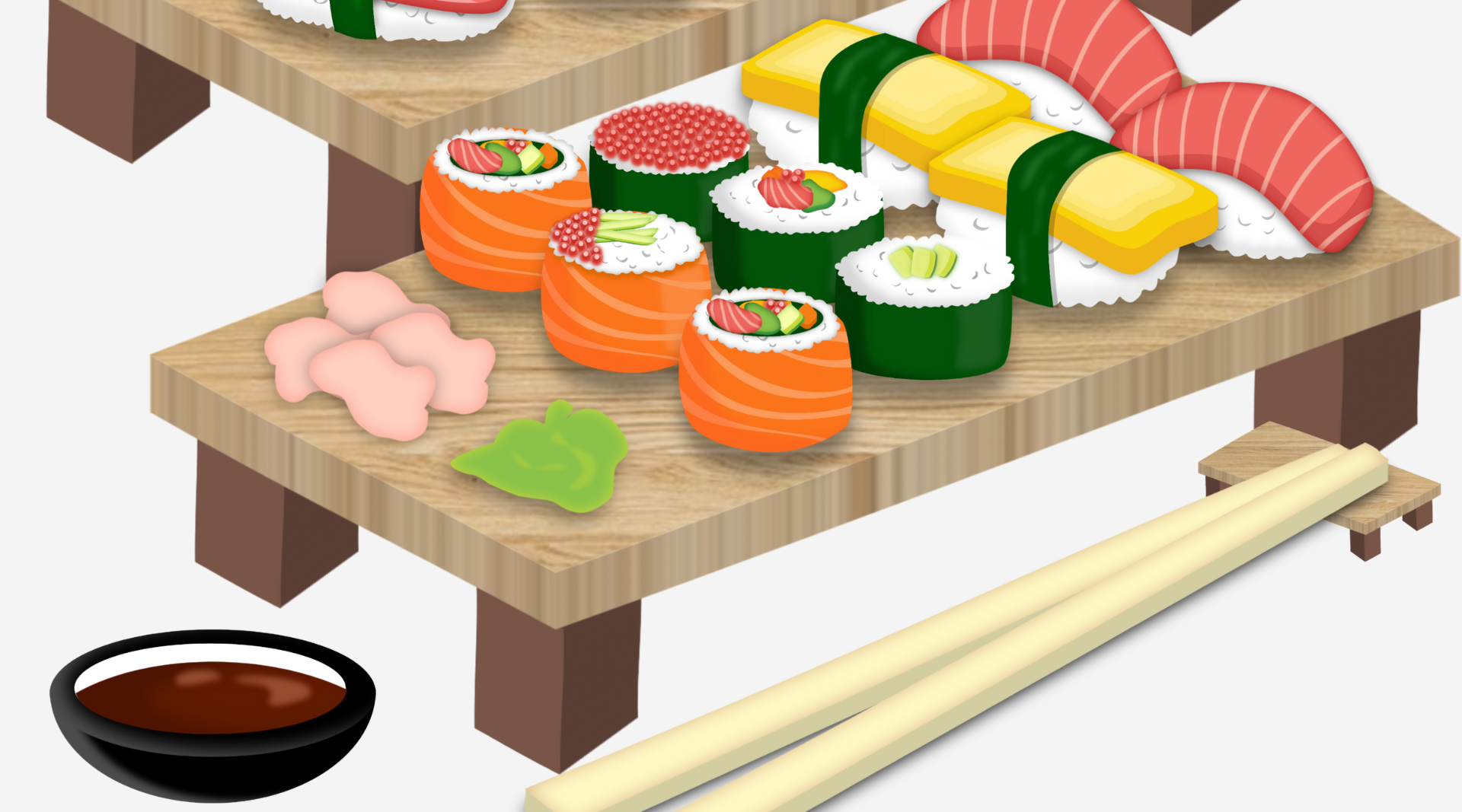 For the fourth one, we will be talking about sushi. The chain's name is Hamasushi. 
There are about 486 establishments in the country and has the most sushi establishments. There are more than 100 types of sushi on the menu, and many variations come with mayonnaise and sauces. Most dishes are priced at around 100 yen. 
You can order the usual sushi, such as salmon, tuna, mackerel, shrimp, etc. But don't worry, for those who don't like raw fish, you'll also find many unconventional fillings such as prime rib, roast beef, duck, prosciutto, steak, and tempura.
(https://en.hama-sushi.co.jp/)
Mister Donut

For the fifth recommendation, we will finish with a sweet touch with the famous Mister Donut. 
Mister Donut is the Japanese equivalent of McDonald's for donuts with more than 900 shops across the country since 1971. Everyone knows and loves this donut chain! There are several standard donuts to choose from, but the pon-de-ring donuts stand out for their soft and springy texture.  
If you want to balance out the sweetness of the donuts, they also have many savory versions like BBQ Frankfurter pies, tuna melt toast, pasta, Chinese food, and hot dogs as well as many drinks. 
If you are lucky, you may have the opportunity to taste limited edition donuts thanks to the many collaborations with famous stores that Mister Donuts offers. 
We hope that this list will make you want to try many Japanese dishes!